When it comes to having a kitchen in your backyard, it sounds like fun but there are a number of things that needs to be considered before proceeding. Splash Away Pool and Spa is a premier pool building and designing company with years of experience in building an outdoor kitchen. With us, you will get unlimited designs and ideas and our team is knowledgeable and skilled enough to offer you customizing options for your kitchen or pool side areas. We are known to provide turn-key services along with 3D visuals of your ideas for the people of Glenn Heights, Mansfield, TX, Waxahachie, Midlothian, and Ovilla.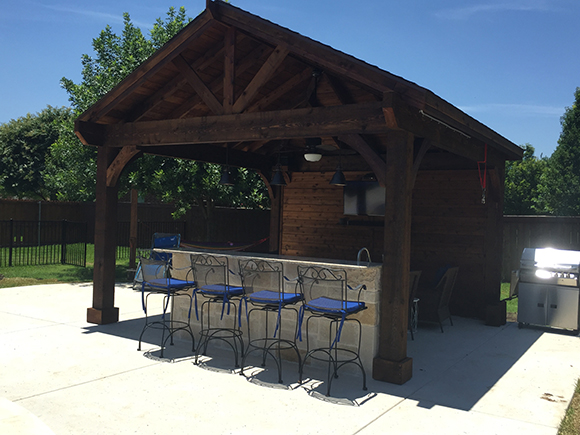 Below we have mentioned 2 major factors to consider while designing an outdoor kitchen. Take a look.
This is an important factor to consider as you do not want to travel to and fro every time you need something for your kitchen. So, things like a refrigerator, proper shelves and cabinets, and other miscellaneous tools which are commonly required in every kitchen on a daily basis.
The size of your outdoor kitchen will primarily depend on the size of your backyard. Moreover, it also depends on how you intend to use it; if you are planning just to hold pool parties or barbecue nights then you will not need a big set up. But if you regularly have your meals outside then you would need a larger kitchen.
This kitchen will require proper shelter as it will be exposed to the external environment all the year round. With the right coverage, roof, and shades, you do not have to worry about the light drizzle or blowing leaves, or strong winds while you are cooking.
So, if you are planning to set up an outdoor kitchen at your place, you can get in touch with us at 817-907-5677.