Custom Pool Lighting in Midlothian, Glenn Heights, Mansfield, Waxahachie, Ovilla, TX, Ellis County and the Surrounding Areas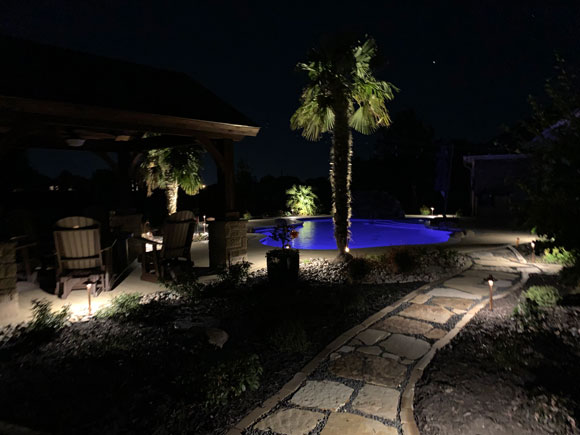 Splash Away Pool and Spa designs the pool oasis that fits your lifestyle. Your lifestyle may include family time that is only available at night or late evening entertaining. Your custom pool can do double duty by extending the hours your use your pool while acting like a stylish outdoor feature design. Lighting features extend your pool time, impress your guests and increase pool safety.
Extend the time you spend in your inground pool into the well-lit oasis you enjoy under the stars. You deserve to get the oasis you've dreamed of and enjoy it as much as possible day and night. Enjoy the summer Texas nights even more in your lighted custom pool. Or, jump in the spa on chilly winter nights with a warm beverage and relax the night away.
GET A QUOTE
Create an Amazing Display with Our Pool Lighting Features
Lighting is an easy addition when designing your new custom pool with Splash Away Pool and Spa as your custom pool builder. We'll work the lighting features into your design while creating your 3D renderings. Come with your ideas and we'll make some suggestions with pool lighting features that will enhance and upgrade your custom pool.Flip on your pool lights during your next barbeque and watch your guests' faces. Suddenly the dark area in your yard in an inviting feature they'll be wanting to come back and jump in.
Here are some of the features in your custom pool to feature with lighting:
Waterfalls
Deck jets
Spas
Specialty ledging
Bubblers
Stairs and steps
Fountains
Separation areas
Splash pads
Water movement
Benefits of Custom Pool Lighting
Your inground pool lighting will match your pool's features and design theme.
The result is the backyard oasis you and your family use more than ever and that amazes your guests.
Extends pool time to starry evenings
Enhances pool features
Add drama and heightens design
Changeable mood-enhancing color
Heightens water movement
Lights darkened grottos
Increases safety
Outlines depth changes
Highlights natural stone structure
Custom Pools Lighting Feature Automation
Don't forget you can alter the colors to match holidays, party themes and even the colors of your favorite team. Splash Away Pool and Spa utilizes automation systems that empower pool owners with full control of their pool's operation. Change lighting colors and output, turn on or highlight certain areas. Change your inground pool's lighting while standing at the barbecue or even while in the driveway. Pool convenience has never been easier.
GET A QUOTE