Pool Installation, Inground Pool Companies, Inground Pool Contractors and Installers in Waxahachie, Glenn Heights, Mansfield, Midlothian, Ovilla, and the Surrounding Areas
Make Your Summers Memorable
The summer months in Texas can be brutal, and one of the best ways to handle the heat is by getting a pool installation by one of the best inground pool companies in Glenn Heights, Mansfield, Midlothian, Ovilla, Waxahachie, TX, and surrounding areas. When you are looking for an inground pool contractor be sure to contact Splash Away Pool and Spa. With our approach that any job worth doing is worth doing right, you can be sure that you will get a quality pool installation no matter the size or shape of your pool.
Contact us today to have us come out for a site inspection and to learn about what you want in your pool.
Pool Installation Process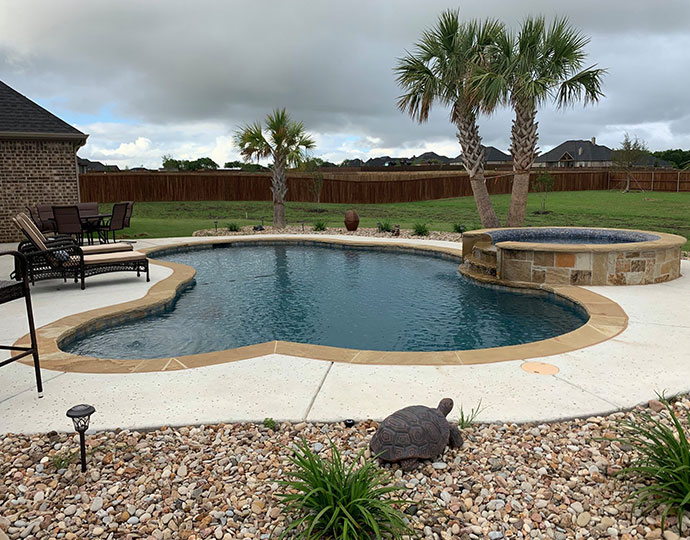 When you work with us at Splash Away Pool and Spa, you get a hands-on swimming pool builder that is passionate about every inground pool installation we do. We will first come out to your location to scout the property and take a host of measurements. At this same time, we want to hear from you, the customer, about what you envisioned for your pool installation. Are you looking for part of the pool area to be more kid-focused? Do you want to incorporate seating in the pool for relaxing in the comforting waters? Or maybe you are wanting it to look more like a resort because you will use the space as your private getaway. Our goal is to make your vision a reality.
We'll take all of this information back to our design headquarters and get to work designing your perfect pool setup. You will then come to our location to see the full design and to make any final tweaks to things until we have just the right plan in place for your pool. The final phase is to bring in our inground pool installers and get to work making the plans a reality. Our owner will be on-site to ensure that the construction goes how it should and that all of our inground pool installers are following the design that was settled on.

Inground Swimming Pool Contractors
There are a lot of inground pool contractors out there, and the way we set ourselves apart in Glenn Heights, Mansfield, TX, Midlothian, Ovilla, Waxahachie, and the surrounding areas is to have our owners work with all of the clients to get things right the first time. When you are ready for your pool installation, contact our inground pool company, Splash Away Pool and Spa, who always spend the time to get it right the first time.
Let our Inground Pool Installers Turn Your Backyard Fantasy into a Reality!
GET A QUOTE