Pool Builder, Pool Installation, Pool Remodel, Outdoor Kitchen in DeSoto, TX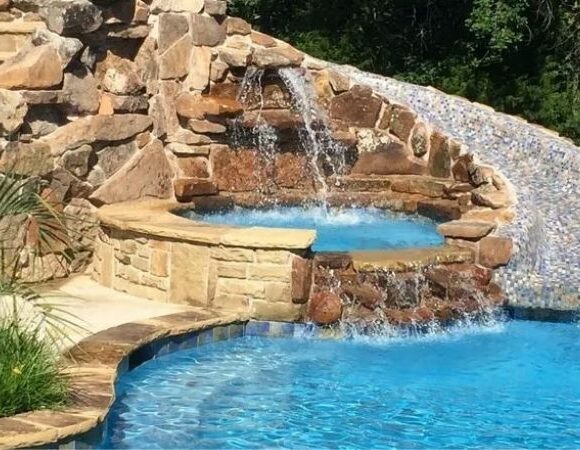 Pools in DeSoto, TX are not just a nice thing to have, during the summer months it can be one of the best ways to deal with the heat. This is why when you are looking for a pool builder you need to call Splash Away Pool and Spa. We have been doing pool installations and pool remodels for years and will always put our best into every project we do. You don't just work with our installers, you work with the owners who will ensure that clients get exactly what they are looking for. Contact our team today to experience the difference of working with truly committed pool builders.
Pool Installation in DeSoto
Whether you are looking for a custom designed pool or a basic shape to enjoy, our process for pool installation remains the same. We will first come to your property to put eyes on the area where you are wanting the pool to be. Measurements are taken, pictures as well, and discussions start with you to learn what you want in a pool. All of this comes back with us to work on the design for your outdoor pool space.
What special things do you want for your pool? Are you looking for a shallow ledge to relax on? Maybe you want a waterfall feature as part of your water filtration unit. We have a number of different options that we can show you that can give you other ideas to make your pool truly yours. We use only the finest pool equipment with the strongest warranties and satisfaction records so your pool installation will last you for many years.
Outdoor Kitchen to Complement Your Pool Remodel in DeSoto, Texas
You may have a pool that you love, but you would like to update some things with it. For example, you want to swap out your regular lights for LED lighting, or you may want to be able to control the pool operations like your pool pump and other things from your smart phone. Along with your pool remodel to enhance your existing pool, it is a great time to add that outdoor kitchen. Why mess up the inside of your home when you can easily make burgers or serve snacks poolside with your outdoor kitchen from Splash Away Pool and Spa? It's a no brainer that these complement each other very well at your DeSoto, Texas property.
Having a pool means having your own oasis in the backyard. On March 3, 1949, the results were entered into the records of the Dallas County Commissioners Court, thereby creating the City of DeSoto. The new city was less than one square mile in size. The population surpassed 30,000 in 1990. On June 11, 2006, the National Civic League named DeSoto an "All-America City". Contact us when you are ready for a pool installation for your personal oasis.
Looking to add a pool, hot tub, or outdoor kitchen to your property? Feel free to contact our team today at (817) 907-5677 for a quote. One of our custom pool builders can provide you with more details and advise you on the right kind of pool for your property. Out of all the pool companies to choose from, Splash Away Pool and Spa is the one you need for your outdoor oasis.