When hiring pool installation services, it's essential to ensure that you choose a reputable and reliable company that will deliver high-quality results. Splash Away Pool and Spa provides pool installation services in Waxahachie, Mansfield, TX, Midlothian, Glenn Heights, Ovilla.
Here are four key factors to check before hiring a pool installation service: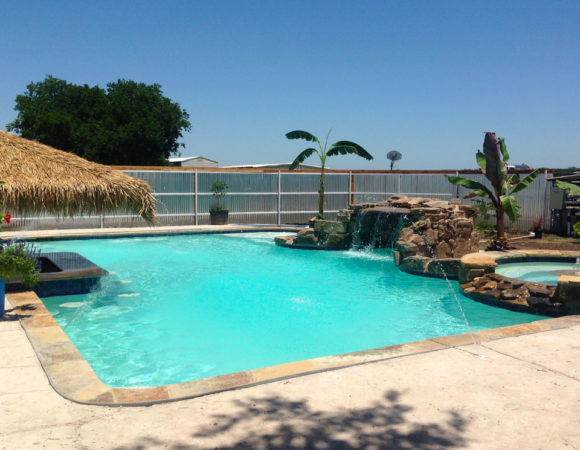 Experience and Expertise: Look for a pool installation company with extensive experience in the industry. Check how long they have been in business and ask for examples of their previous pool installations. An experienced company will have a better understanding of the complexities involved in pool construction and will be more capable of handling any challenges that may arise during the process.
Licensing and Insurance: Verify that the pool installation company is properly licensed and insured. Licensing ensures that the company meets the necessary legal requirements and adheres to industry standards. Insurance protects you from any liability in case of accidents or property damage during the installation process. Request proof of both licenses and insurance and confirm their validity.
References and Reviews: Ask the pool installation company for references from their previous clients. Contact these references to inquire about their experience with the company, the quality of work, adherence to timelines, and overall satisfaction. Additionally, search for online reviews and testimonials about the company to get a broader perspective. This research will give you insights into the company's reputation and the level of customer satisfaction they have achieved.
Detailed Written Contract: Before finalizing any agreement, ensure that you have a detailed, written contract that outlines all the aspects of the pool installation project. This contract should include the scope of work, materials to be used, estimated timeline, payment terms, warranties, and any additional services or charges. Carefully review the contract and clarify any uncertainties or concerns before signing it. A well-documented contract protects both parties and helps avoid misunderstandings or disputes in the future.
By considering these four factors – experience, licensing and insurance, references and reviews, and a detailed contract – you can make an informed decision when hiring pool installation services and increase the chances of a successful and satisfactory pool installation project. Please do not hesitate to call us or drop us an email.