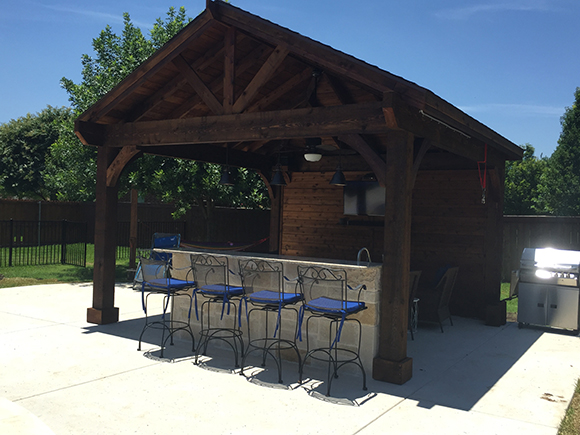 If you've always wanted to have an outdoor kitchen, you should go ahead with the plan. We are sure that you have seen various TV shows where the rich and the famous have enjoyed their cooking and meals at outdoor kitchens. Even you can have them within your budget. If you live in and around Mansfield, TX, Waxahachie, Midlothian, Ovilla, Glen Heights, we at Splash Away Pool and Spa will help you achieve amazing outdoor kitchens. We will make you feel like a celebrity. You can now enjoy cooking outside with your family and bond. If you're not sure about having one, here are some advantages of owning an outdoor kitchen.
Lower energy bills: Your energy bills will be lower. This is because the heat from cooking wouldn't really have an impact on the indoor environment. Outdoor kitchen areas are great for having fun and chatting with guests as well. So if you are calling your friends and family to come over, then an outdoor kitchen is excellent for summer barbecues, birthday parties, etc. If you're throwing a pool party, then also, an outdoor kitchen will come to help.
Better mental health: Secondly, outdoor kitchens are great for mental health. The Sun and fresh air will lift your mood. Given the current situation, it is a great investment as it is even proved to have reduced anxiety levels. If you love cooking, then an outdoor kitchen is a must.
Increases value and appeal: Outdoor kitchen even increases the value of your home. It makes it look more appealing.
More indoor space: An outdoor kitchen will also make sure that your indoor space looks bigger. It will seem less cramped. Isn't that an amazing point?
So these are a few reasons why you should go for an outdoor kitchen. If you want to get this practical addition to your home, kindly give us a call. We'll explain everything to you in detail.