Pool Builder, Inground Swimming Pools, and Custom Pools in Glenn Heights, Red Oak, Midlothian, Mansfield, Waxahachie, Ovilla, TX, Ellis County and the Surrounding Areas
Dream Custom Pools
Splash Away Pool and Spa is your premier custom pool designer and builder. If there is one takeaway that we want you to know, it is that we design the customs pools our customers want. Every feature, area, material, and more are at the approval of our customers. This is YOUR backyard resort-style oasis and we would never do anything that isn't 100% approved by our customers.
Pool Builder and Design Process
Now, let's get started on the fun part – building your dream inground pool. We work one-on-one with customers in our office to provide the 3D renderings for luxurious inground swimming pools. What have you always wanted? Add it to the list because we'll find a way to incorporate it into your design.
Process for Your Custom Inground Pool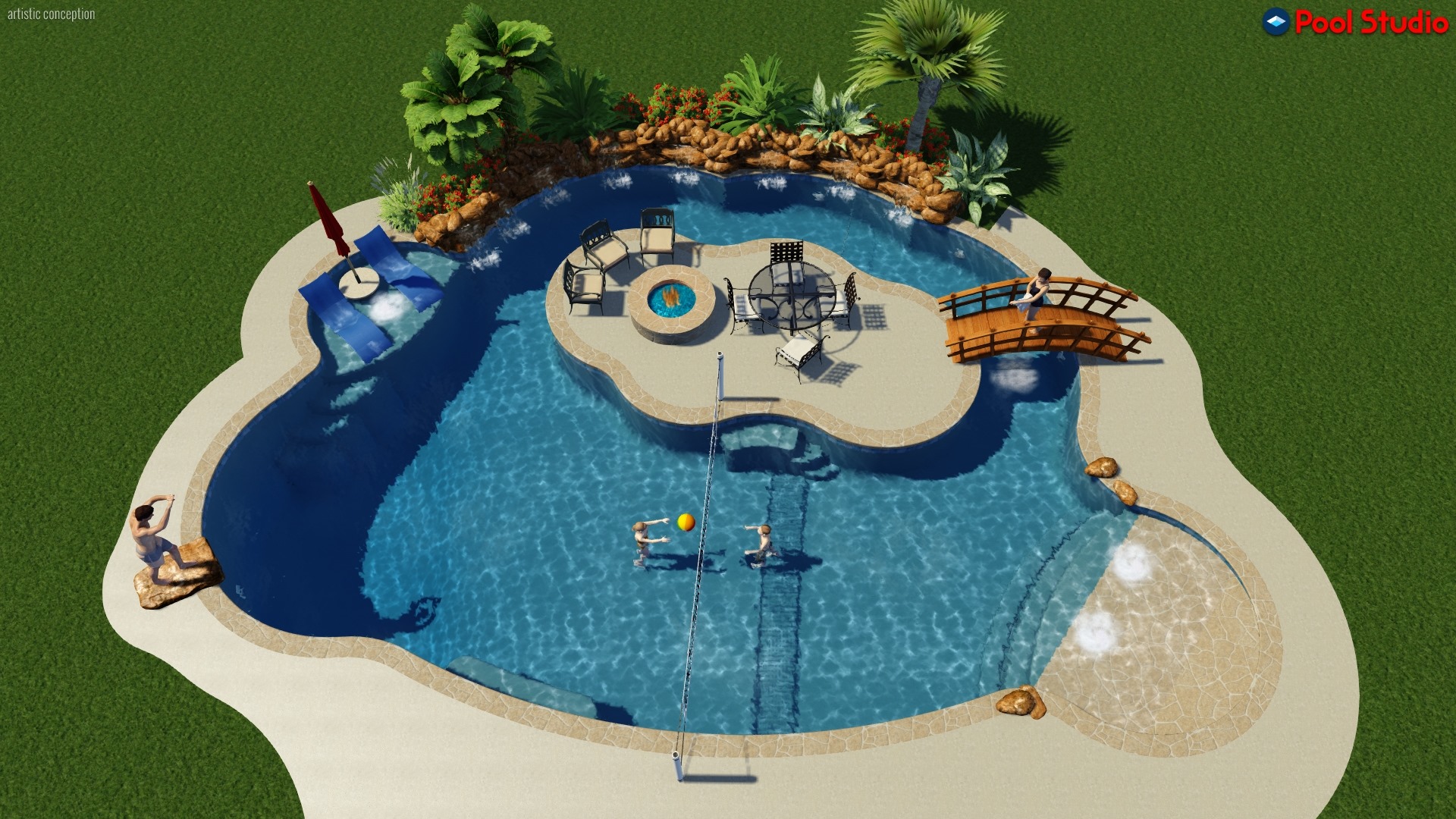 First your site is visited, evaluated, and measured. Bill likes to go out and meet our customers to discuss what they are looking for in their backyard oasis and get the measurements for the available space. Provide pictures, lists of what you want and anything else you would like as part of your backyard oasis. We'll use the site evaluations to create a design that is a collaboration between available space and your customer-led designs. This is a great time for us to learn about your lifestyle, your family and what you are looking for.

Fun spaces for kids to play
Relaxing ledges and seating
Unique features and focal points
Resort style and aesthetics
An entertainer's paradise

Next, we'll meet with you at our design center to show your custom pool design. Go over desired features and any modifications until you are completely satisfied. We'll tweak the design until you arrive at the "That's it!" moment.
Commence construction. During construction, we pay attention to every detail and inspect every phase. We're always available to assist you – no matter where you are in your project. Our goal is to create a quality project and to exceed your expectations. And, since we pay all of our bills on time, we have excellent relationships with our work partners and suppliers meaning there will be no delays in your construction process. We use only the finest pool equipment with the strongest warranties and satisfaction records.
Quality Materials and Quality Construction
Designing your swimming pool can be an exciting process. You can choose from many materials, colors, and textures to create a custom pool that meets your needs. We'll match the style you are looking for with the materials that will last for as long as you own your pool. We use only the finest pool equipment with the strongest warranties and satisfaction records.
Waterfall Installation
Splash Away Pool and Spa utilizes automation systems that empower pool owners with full control of their pool ecosystem from pool pumps, heating, sanitizing, water chemistry, water features and lighting – with convenient mobile device control from anywhere in the world with the push of a button. Pool convenience has never been easier.
Let Us Turn Your Backyard Fantasy into a Reality!
GET A QUOTE